Mobile Technology for You and Your Team
Enhancing Productivity, Improving Effectiveness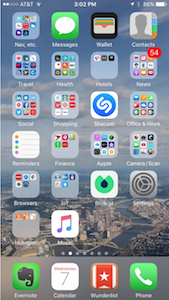 Are you and your team using new mobile apps as effectively as you could? If not, it's possible – even likely – that your competitors are winning more business than they deserve. Why? Because the right Android and iOS (Apple) apps can:
Significantly improve team communication and collaboration (Teams,  Slack, or Chatter)
Accelerate information capture and access using non-hierarchical search and #tags (Evernote)
Eliminate 80% of the risk of getting hacked and losing your intellectual property (LastPass)
Speed up your sales cycle (FollowUpThen.com)
38 other apps that I recommend (entirely based on merit)
I had no intention of creating this talk, but here's the story of how this unique presentation came to be (or if you're looking for the bottom line, just scroll to the bottom of this page).
In 2011, I was delivering a presentation about social media strategy to a group of CEOs in Dallas, TX. At the end of the 3-hour presentation, one of the participants, Mike Richards, approached me and said something to the effect of, "Dave, I'm impressed with the way that you use technology. Could you create a presentation about that?"
I admit that I'm a bit of a geek. I'm an engineer by training (MS, Operations Research, Stanford '83) and I've founded three software companies, selling two (so far). But more importantly to you, I'm a geek who speaks English. And I'm entertaining. If there's a secret to being a good speaker, it is to provide value while being entertaining.
This talk is for teams and groups that want to be more productive and more effective. I've presented this topic to more than 300 groups, large and small, and here is the actual cumulative audience rating on a 5-point scale as measured by an independent agency:
Quality of content: 4.85
Quality of delivery: 4.87
Applicability: 4.83
Recommendation: 100% (unprecedented)
If you want to take your team, group, or audience to the next level, let's talk: