In August, I presented "Social Media for Business; Why You Need It, Why You Can't Ignore It" to 7 Vistage CEO groups in a span of 12 business days. After a typical three-hour presentation in Philadelphia, Harry Halloran,  Chairman / CEO of several companies suggested that I publish an update each month covering the newest and most interesting for business. So here it is…
Introducing the BEST of Social Media for Business – August 2009. Not every discovery necessarily originated during the month; that's just when it hit my radar.
–
Most Compelling Case for
Social Media for Business, ASAP!
Eye-opening stats and engaging video presentation by "Socialnomics" (click to play):
To build on one reviewer's comments, Facebook may be the fourth largest country, but it's also the poorest save for Twitter.
–
–
Best Blog Post I've Read
"Should Your Business Use Twitter?" by BusinessBrief.com (click image to read):
Be sure to read some of the "related stories" too.
–
–
Best Blog Post I've Written
"Writing a Business Blog" by Dave Nelsen (click image to read):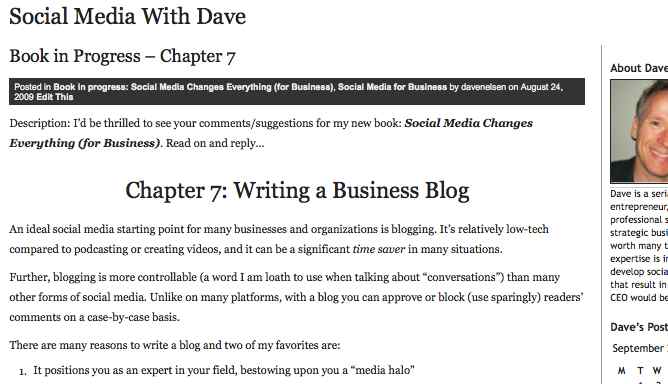 –
–
Best B2B (Business-to-Business) Viral Ad
You, pitching Cisco telepresence (click to make your own ad):
By the way, don't try to paste in your dog's head (been there, done that; they use some kind of facial recognition).
–
–
Best B2C (Business-to-Consumer) Viral Ad
Evian Roller Babies (click to play):
–
–
Best Movie About Social Media
Blogging has officially gone mainstream with "Julie and Julia" (businesses not yet blogging are starting to look like laggards):
My wife and I went with another couple on opening night. All four of us loved it but be sure to eat first! www.RottenTomatoes.com gives it "75%" (not shabby).
–
–
That's it for the "BEST of Social Media for Biz" in August 2009. If you'd like to recommend a "Best of September" entry, leave a comment or send email to the evaluation committee (me) at dave@get121.biz!